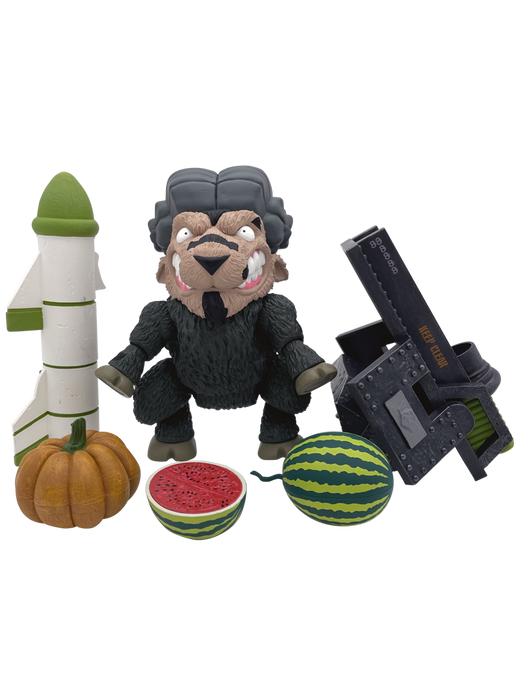 Barnyard Commandos Wave 1 - Major Legger Mutton (Stealth Ops Variant)
Sold out
Original price
$49.99
-
Original price
$49.99
Barnyard Commandos Stealth Ops Exclusive Variants:

As the sun goes down, these bastioned beasts prove that the battle for the barnyard never sleeps!  
The new Barnyard Commandos: Stealth Ops action figures by Premium DNA feature grayscale deco for camouflaging into deep cover on the darkened battlefield. Each includes accessories with glow in the dark deco accents, recreating the feel of night vision armaments. 
This extremely limited edition release comes packaged in glow in the dark accented packaging, and is limited to 450 pieces for Sgt. Wooly Pullover, and 350 pieces for all other characters, respectively.
Barnyard Commandos Wave 1:
Barnyard Commandooooooos!! The battle is on as the Rebel Army of Militant Sheep (RAMS) fight for superiority against the Platoon of Rebel Killer Swine (PORKS)! Each Barnyard Commandos figure is just over 5" tall (head to tail) and features 26-30 points of articulation and multiple accessories for creating maximum carnage!
Major Mutton is referred to by the sheep he leads as the "Old Ram". He is decisive on the battlefield and confident, though his pride will not allow him to wear the glasses he is in much need of. His terrible vision causes even his most loyal R.A.M.S. to scatter when he pulls out his missile launcher. 
Major Legger Mutton Comes With:
1x Backpack missile launcher (removable missile)
1x Whole watermelon
1x Broken watermelon